The Cut — Dreamy Photos of New York, From a 'Captain America' Actor. [Photos by Sebastian Stan]
When the coronavirus came to New York City in early March, the rich fled. En masse, celebrities, influencers, and other wealthy people left for their vacation homes upstate or just got stranded on the vacations they were already on. Sebastian Stan wasn't one of those people. Although he's been anxious, hates Zoom, and has become intimate with every nook and cranny of his apartment, he tells me he couldn't imagine leaving New York.
I spoke with the Captain America actor over the phone last week. He's spending lockdown alone in the city and has been getting into photography. He's the first to admit he's an amateur but says that taking photos of New York has helped him feel better about everything.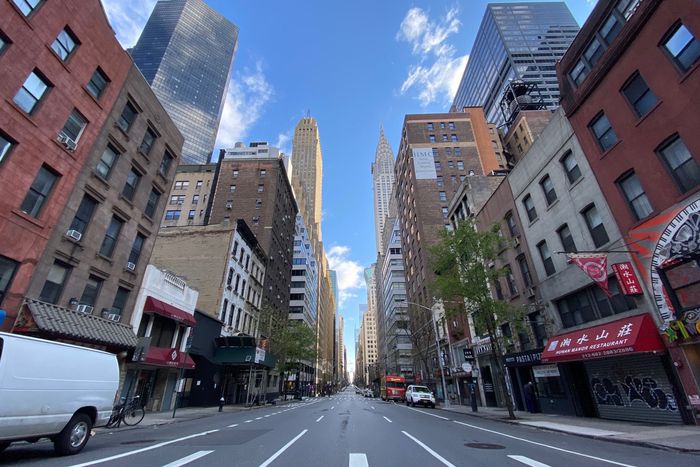 "There was something about seeing these structures, these massive buildings, seeing them weathering the storm," he mused. "It doesn't matter what's going on, who's around, or what we're facing. There's something about the architecture, sort of like the weight of these buildings, that just exudes perseverance in a way. It just made me feel less alone."
Below, a conversation with Stan about photography, what New York means to him, and why he found it so important to stay.
How did you get into taking photos?
I've been running in the city very early in the morning, when there's hardly anybody on the street. And so I just started taking these pictures — it just made me feel better about being here during this time. We're all coping with this thing as best as we can. Everyone's doing their best, and everyone's got their own version of that. And I think this is part of it for me.
There's this great lens, this little thing on the iPhone camera so you can shoot and include more in the picture. I was just mostly sending them to my friends who live in the city but left, being like, "Hey, just remember where you're from."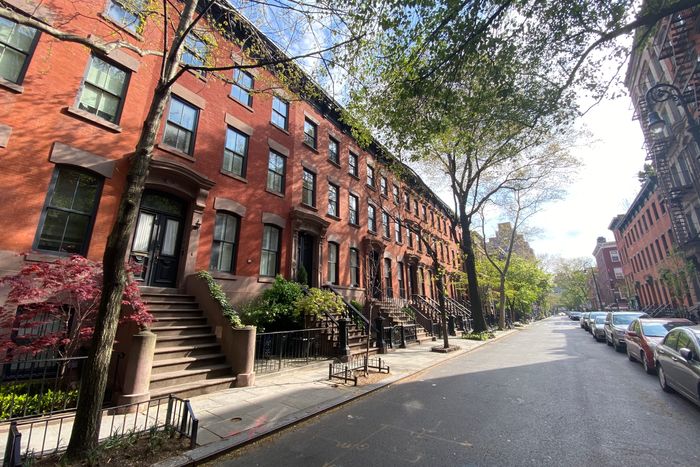 Speaking of your friends who left the city, you could really be anywhere right now. Why did you choose to stay?
This is where my home is. I don't have a place somewhere else to run off to. People that don't live here, they just picture it to be this very lonely place. And it can be lonely, but it's really not. I just feel a tremendous amount of pride being here, because it's where I live.
I'm in a relationship with this city, to some extent. It made so much possible for me in this country, so I don't want to abandon it.
When did you move to New York?
After college, in 2005, and I've lived in the city since then. I came from Romania, and when we first came to the States, my mom fell in love with New York and was very determined to find a way for us to live here. I remember visiting when I was little, and she passed to me this idea about New York, like: This is where you come from, and this is where you invent yourself, and this is where you make it. This is where you survive.
Do you have a favorite building or spot in Manhattan?
I've always loved that West Side Highway. I've walked there through every possible problem, celebration, exhilaration, depression — like everything you can imagine. I've walked Seventh Avenue all the way up and down.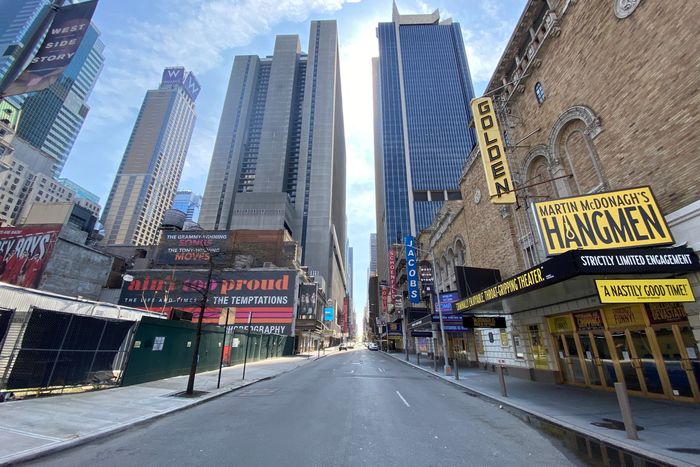 What do you think the city will look like when the pandemic is over?
People here are gonna find their way and continue connecting in that very specific way that only happens in New York. The thing about this city is its inner resilience. Sometimes on my runs, I would pass another runner, and he would look at me and give me like the fist up — like, "Here we are. We're doing it." And there's something very powerful about that.
And a few weeks ago, I was walking and I passed an old lady who was blasting Sinatra's "New York, New York." You heard it all the way down the street, and she was in the window. She must've been 70-something, and she was like, "Come on, let's go!"
What's the first thing you want to do when things are back to normal?
Honestly, I want to go to a rooftop in Brooklyn and hear massive house music playing outside, overlooking Manhattan. And have a cocktail, see the sunset setting over the skyline, hear the music, and just say "WE'RE BACK!"