Category:
Videos
A new '355' trailer (trailer #2) was recently released.
EW.com — It was March 2014 when the cast of Captain America: The Winter Soldier assembled in London for the U.K. leg of their international press tour. For some, namely Chris Evans, Scarlett Johansson, and Samuel L. Jackson, this wasn't their first rodeo with Marvel Studios. They knew their talking points and how to regale reporters at the press conference by swapping war stories and feeding off each other's energy. Sebastian Stan, only on his second outing in the franchise, was more reserved. He offered warm smiles and laughed along with the group's jokes, but kept his own responses somewhat brief. When asked about any on-set injuries that might have incurred, he said. "I honestly wouldn't feel anything until I was in the car on the way home, when I couldn't get out of the seat. But I'm sure we hurt each other."
On his left, Anthony Mackie chimed in. "You didn't hurt me," he said in a soft, almost amorous tone as they locked eyes. This made the audience chuckle. Stan livened up, volleying back what Mackie served. "You?! This is the first time I'm seeing you," he joked.
Mackie had inadvertently solved a small problem for the Disney publicists managing that tour. "They were worried that I didn't talk a lot. I get very uncomfortable," Stan admits to EW, Zooming in from Vancouver for a chat with his New Orleans-based costar this past January. "They're like, 'Just put him in with Anthony, okay? They're going to talk.' And I was talking!" he says. "By the end, I was very lively, and it really is thanks to him."
Mackie agrees. "I'm the ketchup to Sebastian's French fries."
Stan can't help but smile. "Way to put a button on it, and then some!"
Whatever the special sauce, it's this playful dynamic between the actors that made Marvel want to center them in their own event series, The Falcon and the Winter Soldier. Premiering this Friday on Disney+ following the successful debut of WandaVision, the show sees Captain America's two best mates — wise-cracking pararescue Sam Wilson (Mackie) and genetically enhanced super-soldier from World War II Bucky Barnes (Stan) — stomach each other long enough to face a global crisis involving a masked militia group and one Helmut Zemo (Daniel Brühl), the big bad from 2016's Captain America: Civil War. As it happens, head writer Malcolm Spellman points to a scene from that film as "the moment this show was born." Fans know it well: a cramped Bucky in the back of an old Volkswagen Beetle asking Sam, "Can you move your seat up?" Kevin Feige, president of Marvel Studios, also looks to the duo's battle with Spider-Man later in Civil War, which offered an opportunity for more banter. "They're so funny," Feige says. "Those are the two moments that we [at Marvel Studios] would watch and go, 'I want to watch that! I want to watch them together more!'"
As production ramped up on The Falcon and the Winter Soldier in Atlanta in October 2019, Stan needed reminding of that rapport. Again, he credits Mackie. "I think he had a much better handle on the temperature of the show than I did, because there are times where I was so scared and really trying to find the truth of everything," Stan says. "He had to pull me back and be like, 'Yo, just remember we're going to have some fun, too!'" And that's the show in a nutshell: a buddy comedy thrown in the middle of a high-stakes international thriller.
The Falcon and the Winter Soldier was once meant to be Marvel's first Disney+ series out the gate, a show of force in the TV space from the masterminds behind one of the most successful Hollywood franchises in history. Though a scheduling shuffle and a production delay due to COVID-19 now has this premiering after WandaVision, the course for the six-episode hourlong series — as well as the entire Phase 4 slate — remains the same. The show is meant to set up what the world of the MCU looks like after the events of Avengers: Endgame. More specifically, it establishes what it looks like without Captain America. Steve Rogers (Evans), aged from his time-traveling adventures, chose Sam as his successor at the end of Endgame, but the Falcon notably remarks that the shield feels "like it's someone else's." For Spellman, as a Black man, this was the essence of what he wanted the show to become.
"The idea of creating a series that features an African American superhero, and how he responded to that [moment], sparked a million ideas," he says. It's the thought "of exploring a decidedly Black, decidedly American hero in the current climate."
"The show is very honest and forthright and very unapologetic about dealing with the truth of what it means to be American, Captain America, Black Captain America — and if that's even a thing," Mackie elaborates. "I think picking up from where we left off at the end of Endgame, the show progresses extremely well by asking those questions and really explaining why Sam said the shield feels like it belongs to someone else."
Mackie doesn't believe there is "a defacto Captain America figure" here. At least, not in the beginning. "I think the more important thing is, how do we now define the Falcon and the Winter Soldier? When you've been defined so long as an Avenger or a superhero, when you're not that anymore, what are you?"
Marvel executive producer Nate Moore and co-executive producer Zoie Nagelhout met with multiple writers in search of a lead for The Falcon and the Winter Soldier. Spellman, who wrote 2010's Our Family Wedding and episodes of Fox's Empire, rose to the top of the list. He had "one foot in what would be required for a fun action series," Feige says, "but also, being a Black man working in this industry, [he had] very specific points of view that are required to tell the type of story we wanted to tell for, specifically, Sam Wilson."
The mandate, Spellman recalls of pitching the show, was "this cannot be TV." Instead, he decided with director Kari Skogland and the writers' room to make each episode "feel like an event, not just as far as the spectacle on the screen, but the way you tell the story." Skogland says, "Everybody went into this saying we're making a six-hour feature. We'll break it up so ultimately it will look like television, but it will feel like a six-hour feature." Feige did note on the virtual Television Critics Association press tour in February that these "shows are not inexpensive. The per-episode cost is very high."
Mackie had some reservations, let's say, about this approach when he met separately with Marvel months after Endgame. "I was horrified," he says of "being a guinea pig for the first [TV] spin-off of a Marvel movie." He continues, "You're in this amazing franchise and everything works. The last thing you want to do is be the lead of the first thing that does not work, 'cause that's 100 percent you. I don't want to be the guy that destroys an entire Marvel franchise."
He felt a bit more at ease when Feige caught up with him before the start of filming. "I won't let you suck," he promised his star. But it was watching the finished episodes and what Marvel did with WandaVision that boosted Mackie's confidence. Now, the actor feels like "Marvel has revolutionized the game of cinema" by bringing "the scope and magnitude" of the big screen to the small one. "If Kevin says it won't be s—, I would bank on that," he says. Continue reading
You can watch the recently released interviews above.
You can watch the recently released featurette and clips above. The Falcon and The Winter Soldier premieres on Disney+ March 19th. You can find high quality screen captures from the videos in the gallery below:
EW.com — Waking up naked and hungover on the beach next to a stranger after a booze-soaked one-night stand doesn't exactly sound like the beginning of a beautiful love story — especially when it leads to getting arrested for indecent exposure. But when it comes to Monday, the steamy new movie starring Sebastian Stan and Denise Gough, it's time to throw out any assumptions of what a traditional romance looks like. Relationships can start in the back of a cop car!
This is the first trailer for director Argyris Papadimitropoulos' film that subverts expectations of what a movie love story looks like. Stan sheds his hard-edged, scowling MCU assassin persona Bucky Barnes — next seen in The Falcon and the Winter Soldier — to become the laidback and fun-loving Mickey, who meets the older and intriguing Chloe (Gough) at a wild party one night on a Greek island. Their magical weekend of drinking, dancing, and sex in public places plays out like a realistic and exciting fairytale. But when Monday morning rolls around, reality starts to outweigh the fantasy as Mickey and Chloe are reminded there's not always a "happily ever after" in life.
"I was always excited and interested in love stories but I always wanted to explore when things go wrong in relationships," Papadimitropoulos previously told EW of his fourth feature film, which he wrote with Rob Hayes. "Why do people become so different at some point when everything started like a dream?"
Papadimitropoulos knows moviegoers have seen the candy-coated, happy ending love stories in films many times before, so he wanted to take an honest look at what really happens with relationships — the good, the bad, and the ugly.
"The rom-com genre gave us some amazing films in the past but then again, you watch them, they're entertaining, but it's not true," he said. "You don't really believe what's going on at the end. So we start the film like a romantic comedy but then let the characters develop the way they would in real life and have problems, bottled up feelings, things they hide from each other, skeletons in their closet, and see what happens when the reality of everyday life settles in. It's great having an amazing weekend but then Monday comes with a reality check."
Monday premieres in select theaters and on-demand on April 16.
'The Falcon and the Winter Soldier' starts streaming March 19th on Disney+.
In case you missed it when it aired you can check out the 2 minute long trailer for 'The Falcon and the Winter Soldier' which aired during the Super Bowl earlier this month. You can also check out an additional television spot with a little extra footage in addition to some high quality Promotional Artwork and Screen Captures from the trailers in the gallery now.
'The Falcon and the Winter Soldier' premires on exclusively on Disney+ on March 19th.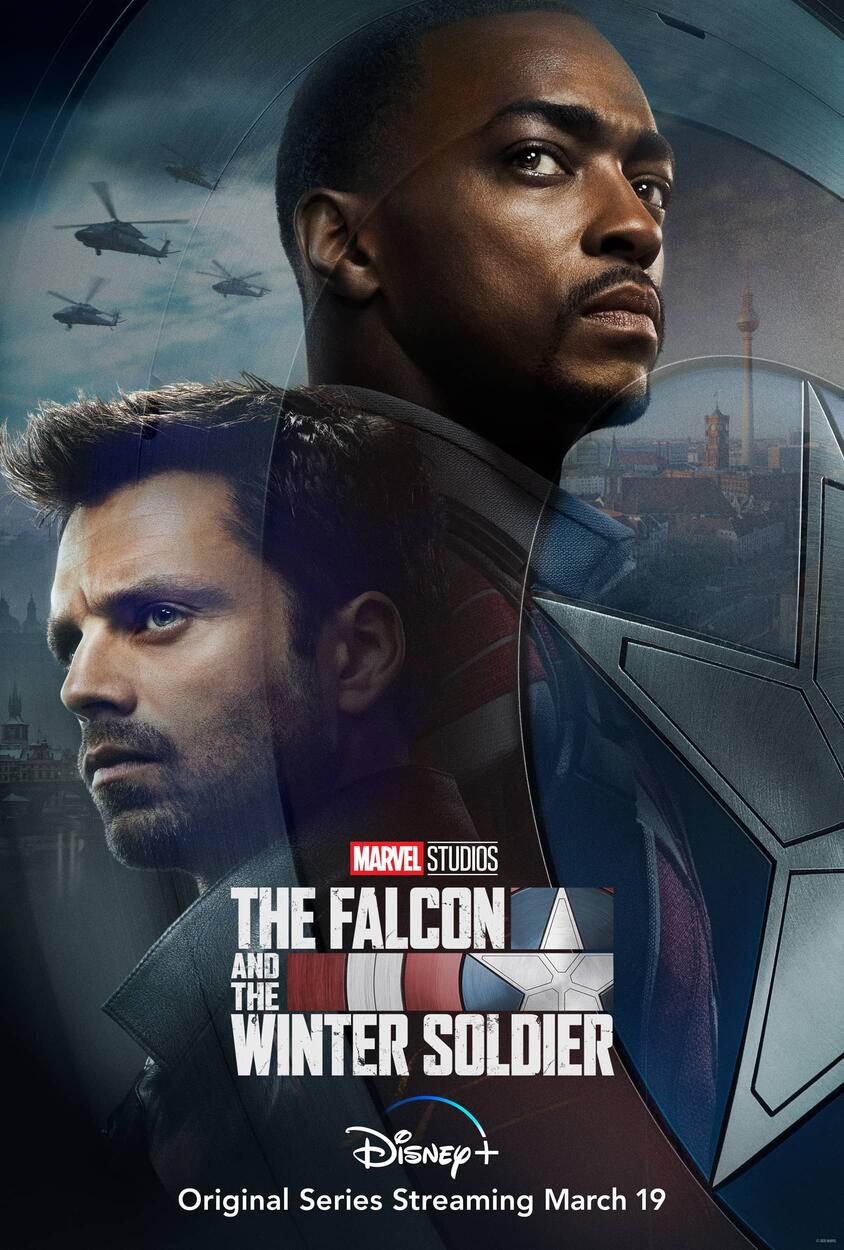 Variety.com — Bucky Barnes will always have an attachment to Captain America, no matter who holds the title. In the new trailer for "The Falcon and The Winter Soldier," released by Marvel Studios at the Disney Investor Day, Sebastian Stan's character works alongside the newest Captain America: The Falcon.
Played by Anthony Mackie, the Falcon received the honorary title from the original Captain America during the resolution of Marvel's "Avengers: Endgame," though he continues to operate under his bird-based persona.
The upcoming series, originally set to release in August of this year, was delayed due to the ongoing coronavirus pandemic, but is now expected to premiere on March 19, 2021. Mackie and Stan star, reprising their roles from the Marvel Cinematic Universe to unfold the journey taken by the Falcon upon receiving the Captain America shield from his now-retired friend.
The series will also feature Daniel Brühl, Georges St-Pierre and Emily VanCamp in returning roles as Helmut Zemo, Georges Batroc and Sharon Carter, respectively. It will feature six episodes directed by Kari Skogland for Disney Plus.
Filming for the series began in 2019, but with production being slowed by the pandemic, final shots were wrapped in late October. Created by Malcolm Spellman, "The Falcon and The Winter Soldier" offered a teaser to fans back during the 2019 San Diego Comic-Con, featuring Brühl's character in a purple mask. The outfit — an homage to Helmut Zemo's comic book origins — was well-received by the actor, who said it brought a fresh feeling to the "Captain America: Civil War" character.
Concept art for the show was shared in the short documentary "Marvel Studios: Expanding the Universe" on Disney Plus last year. Spellman and Kevin Feige executive produce the series.