The actor Sebastian Stan sat at a window table in the Sea Grill restaurant on a recent Tuesday afternoon, overlooking the skating rink at Rockefeller Center.
"We used to come into the city a lot when I was a kid," said Mr. Stan, 35, recalling the years when he lived with his mother and stepfather in Nyack, N.Y., and was a student at Rockland Country Day School. "Especially around the holidays, this was the best place to come."
As he spoke and glanced quickly at the lunch menu, deciding on salmon tartare and sparkling water, a steady stream of nervous-looking skaters passed by, several tumbling to the ice. At one point, a young girl, swaddled in a bright-pink winter coat, stopped in front of the restaurant window, tightly gripped the railing and burst into tears as her mother gently — and unsuccessfully — tried to lure her back to the ice
Mr. Stan was asked if he had skated here.
"I've never been ice skating, ever," he said. "I'm traumatized by the idea of it. Look, see those kids out there, falling. I keep thinking that I'm going to fall, and then someone is going to come by and slash my wrists off with one of their blades. So I'm much happier on the sidelines, as a spectator."
It's a surprising admission from someone whose new film, "I, Tonya," opening later this month, is all about the world of ice skating — in particular, the 1994 Winter Olympics, the toxic rivalry between Nancy Kerrigan and Tonya Harding, and the famous kneecapping incident that sent Ms. Kerrigan to the floor, screaming, "Why me?"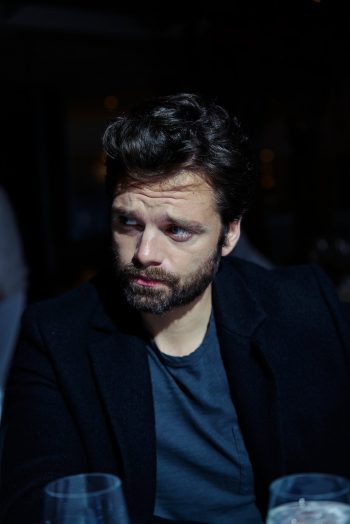 Mr. Stan, perhaps best known to film audiences as Bucky Barnes (a.k.a. the Winter Soldier) in Marvel's "Captain America" films and the coming "Avengers: Infinity War," plays Jeff Gillooly, Ms. Harding's husband at the time and one of the bumbling accomplices in the tabloid-ready crime. (In 1994, Mr. Gillooly was sentenced to two years in jail and fined $100,000 for his role in that incident; he was released in 1995. Ms. Harding was put on probation for three years and banned for life by the United States Skating Association.
It is not a particularly sympathetic role. In fact, Mr. Stan, in character as Mr. Gillooly, is introduced to the film's viewers in an early scene in which he looks directly into the camera and says: "At 27 I was the most hated man in America. Maybe the world — with a mustache I still can't apologize enough for. My name was a verb. Like, if you bash someone in the kneecap, you 'Gillooly' them." (Margot Robbie plays Tonya in the Oscar-buzzy movie, which was directed by Craig Gillespie.)
Was there any trepidation about taking on the role of this somewhat unsavory character, one who is not only a comically inept criminal but is also part of a mutually abusive relationship that the film portrays unflinchingly?
"I've gotten really good at not judging characters," Mr. Stan said. "You have that fear of 'God, I don't know if I can do this.' But the script was intriguing. And regardless of what I thought happened, and what judgments I had about all that, I just had to let it go, and trust the script. My job as an actor is to just tell the story as best I can, from my character's point of view, and let the audience decide."
There was, however, one person who was puzzled that Mr. Stan had taken this role: Mr. Gillooly.
Shortly before filming began earlier this year, the two met at a restaurant in Portland, Ore., where Mr. Gillooly and Ms. Harding first met and where Mr. Gillooly still lives. As Mr. Stan recalled, "The first thing Jeff said to me, when I sat down, was, 'Why would anyone want to do this? Who would want to see this thing?'"
Mr. Stan's answer?
"I told him it was a really great script."